Last Updated: Tuesday, 23 May 2017 22:54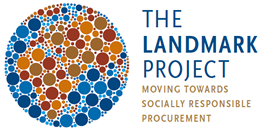 What challenges do procurers face when purchasing socially responsible products? How can social procurement be successfully implemented in public authorities? Are there any forward-looking models and proofs for the verification of supply chains? And: What are the risks and opportunities associated to on-site audits?
These and other questions will be marking the closure of the EU-wide LANDMARK project and will be treated within workshops, discussions and expert-contributions.
We invite you to inform yourself about the most important conclusions this three year cooperation between municipalities and NGOs has generated. Join the dialogue and help create new concepts for the future – as procurers and administrators, as staff of NGOs and policy-makers, as certifiers and company-representatives.
The conference will take place on March 27th 2014 from 09:00 to 18:00 at Haus der Wissenschaft (House of Science) in Bremen.

The evening before the conference - 26th March from 18:00 to 19:30 – the organizers invite you to a welcoming event at EuropaPunktBremen in the Bremen Parliament to visit the LANDMARK-exhibition.
Registration is open now. Register to this free event by using the registration form. Please note that you have to select your availability for one of the workshops and the evening event on March 26.