Last Updated: Monday, 06 May 2019 14:44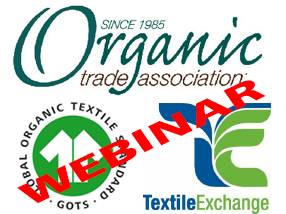 Materials and archives now available:

Organic Textile Labelling in the U.S.
Thank you for registering for the Organic Textile Labeling in the U.S. Webinar that took place December 6th 2018. In this webinar, we learned more about U.S. regulations in organic textile labeling, different kinds of organic claims, and how the Organic Content Standard (OCS) and Global Organic Textile Standard (GOTS) can be used to help support labeling organic textiles. The Organic Trade Association's Vice President of Regulatory & Technical Affairs, Gwendolyn Wyard, gave the state of play in the U.S. regulations for organic labeling with a focus on textiles. Lori Wyman, the GOTS North American Representative, explained what claims can be made for GOTS certified organic products. Textile Exchange's Ashley Gill covered the OCS and raw material content claims.
A special Thank You to our speakers!
Gwendolyn Wyard, Organic Trade Association
Lori Wyman, Global Organic Textile Standard
Ashley Gill, Textile Exchange