Last Updated: Tuesday, 23 May 2017 22:54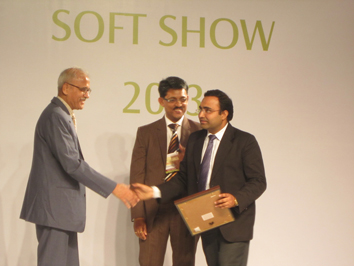 The Consortium of Green Fashion (CGF) in India recently presented awards in five categories: Industry, Designer, NGO, Student Competition and Best Paper. The award presented to GOTS in the NGO category was an appreciation for global activities in the field of promoting textiles produced from organic fibres, processed in environmentally and socially responsible ways. Sumit Gupta, GOTS Representative in India accepted the award on behalf of GOTS on 6th of April 2013 at the Lalit, Mumbai.
The award function was organised along with a very interesting Green Fashion Show as a grand culmination of a national level competition of Green Fashion Design. It was preceded by a conference with focus on sustainability in textiles. This CGF initiative was well received by top institutes as well as top fashion industries.
Bombay Rayon Fashions Ltd, Madura Lifestyle and Fashion, Polygenta, Laxmipathy Sarees were among the conference partners.
CGF is a one of a kind initiative by Maharshi Karve Stree Shikshan Samstha's School of Fashion Technology (SOFT) & DyStar-India, Navi Mumbai. They aim to create a platform for exchange of ideas, information & sustainable practices making Green Fashion as the only choice of present & future. It was formed on international level, to bring about the confluence of Fair Practices in international and national fashion business. It is purely meant for increasing ecological awareness in Textile and Fashion Industry that continuously facilitates research and promotes "Green Fashion", "Fair Fashion" and "Responsible Fashion" that aims to reach the grass root level to strengthen that particular stratum of industry which ultimately leads to healthy fashion.
Mr. Steven Jesseph (International Compliance Group,USA), Mr. Manish Mandhana (Mandhana Industries Ltd) and Mr. Rahul Mehta (Creative Casual India Pvt Ltd) were the Key Note Speakers in the conference. Other sessions related to Sustainability, Compliance, Upcycling, Water conservation, Energy Conservation and Waste Management were presented by a series of distinguished speakers.
To promote Green Fashion and to acknowledge Green Initiatives of Industries, NGO's and Designers, the applications were invited from various national and international organizations.
The following best initiatives were awarded at the time of CGF Award evening:
The best Green Initiative – Industry award was given to – Alok Industry, Polygenta, Welspun, Mehershaw.
The Best Green Initiative – NGO Award- was given to GOTS and Conserve.
The Best Green Initiative – Designer Award- was given to Mr. Rahul Mishra and Mr. Philippe Werhahn.